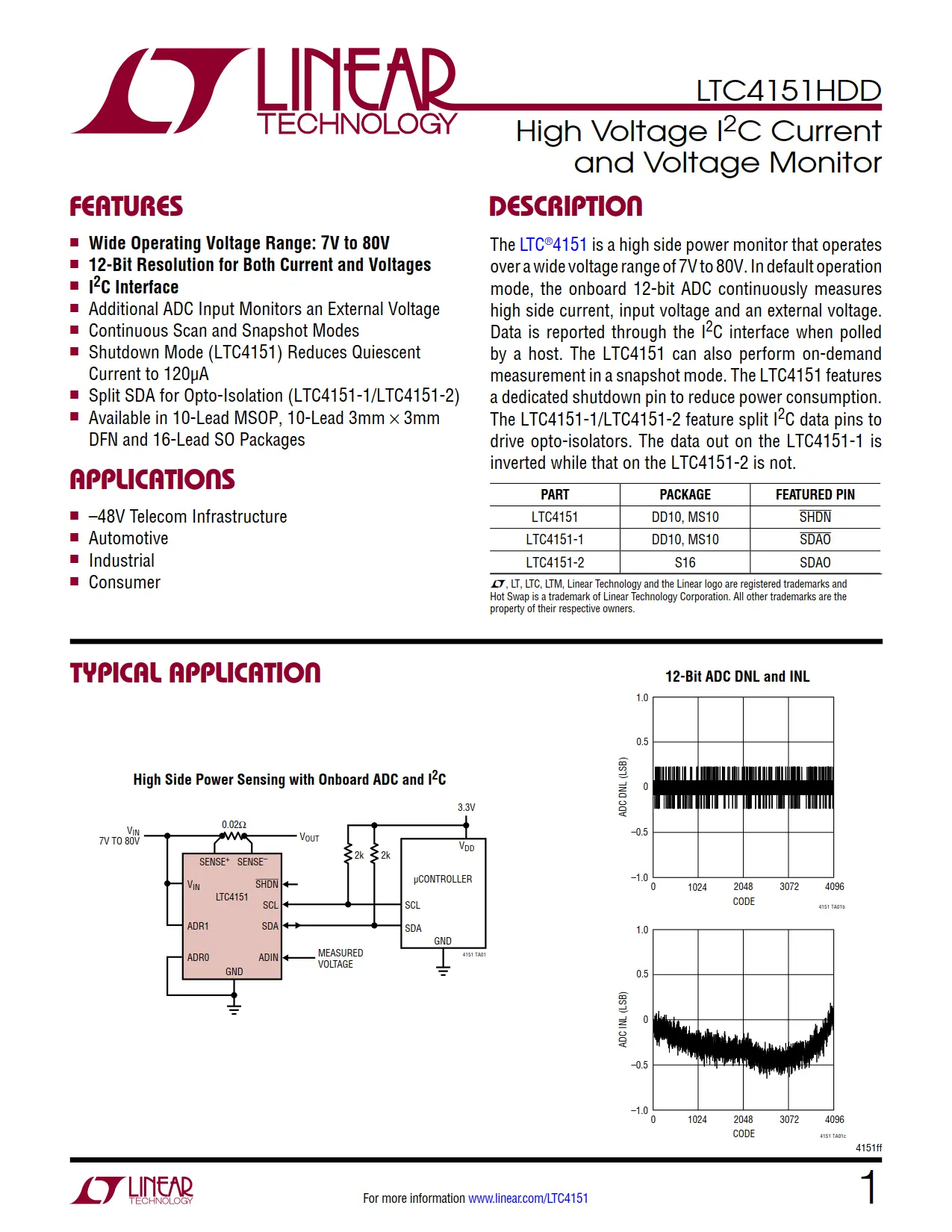 LTC4151HDD DataSheet
Part No.
LTC4151HDD
Part Marking
LCWZ
Temperature
–40°C to 125°C
Package
10-Lead (3mm × 3mm) Plastic DFN
File Size
298 KB
Page
18 Pages
Manufacturer
Linear Technology
Views
1
Upload Time
2022-06-16 18:47:24
Update Time
6/16/2022
Description
IC PWR MONITOR MS 80V SD 10DFN
If you would like to buy it now or in the future, please email or add our skype hello@ic-component.com
LTC4151HDD Features
■ Wide Operating Voltage Range: 7V to 80V
■ 12-Bit Resolution for Both Current and Voltages
■ I2C Interface
■ Additional ADC Input Monitors an External Voltage
■ Continuous Scan and Snapshot Modes
■ Shutdown Mode (LTC4151) Reduces Quiescent Current to 120μA
■ Split SDA for Opto-Isolation (LTC4151-1/LTC4151-2)
■ Available in 10-Lead MSOP, 10-Lead 3mm × 3mm DFN and 16-Lead SO Packages
LTC4151HDD Applications
■ –48V Telecom Infrastructure
■ Automotive
■ Industrial
■ Consumer
LTC4151HDD Description
The LTC4151HDD is a high side power monitor that operates over a wide voltage range of 7V to 80V. In default operation mode, the on-board 12-bit ADC continuously measures high side current, input voltage and an external voltage. Data is reported through the I2C interface when polled by a host. The LTC4151 can also perform on-demand measurement in a snapshot mode. The LTC4151 features a dedicated shutdown pin to reduce power consumption. The LTC4151‑1/LTC4151-2 feature split I2C data pins to drive opto-isolators. The data out on the LTC4151-1 is inverted while that on the LTC4151-2 is not.
Related LTC4151HDD Datasheet