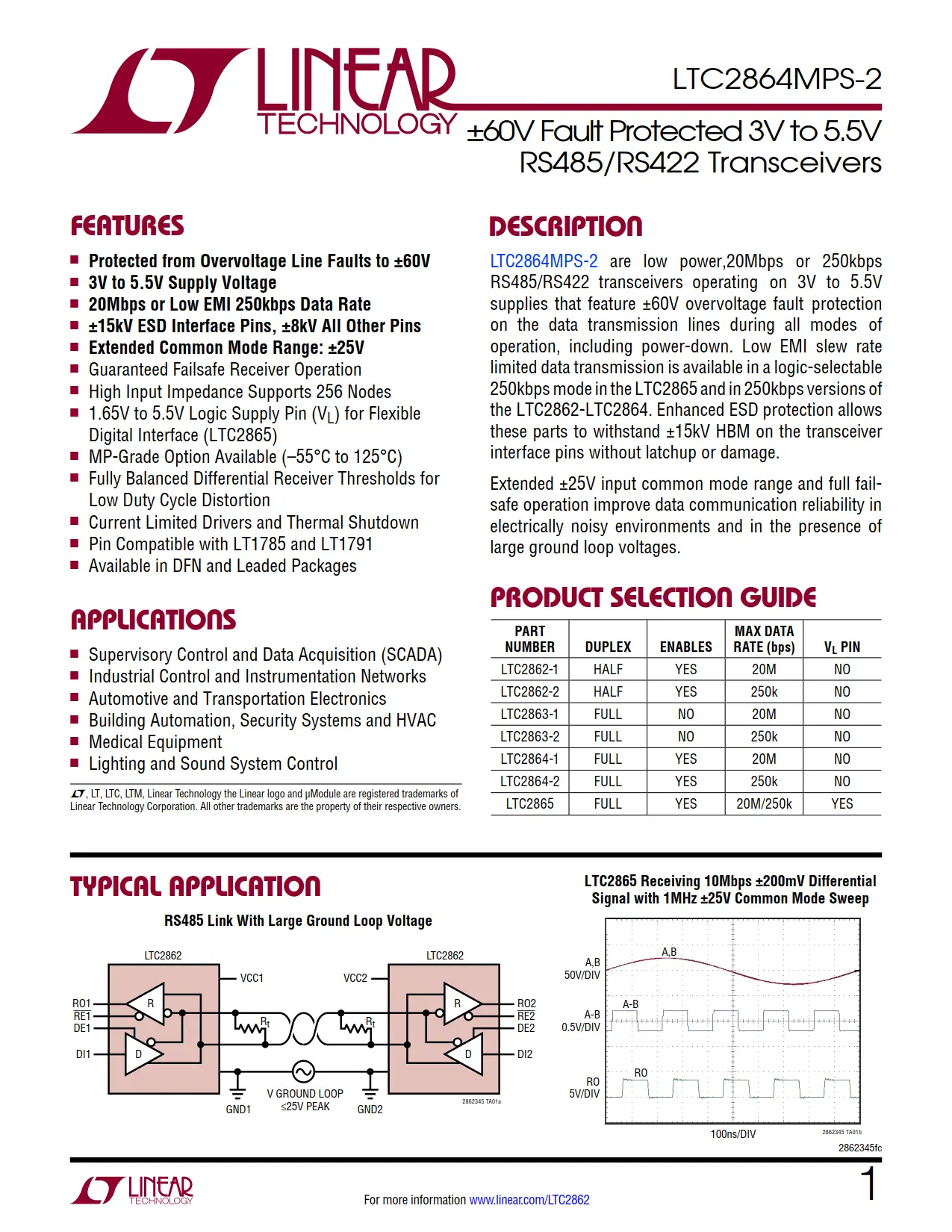 LTC2864MPS-2 DataSheet
Part No.
LTC2864MPS-2
Part Marking
LTC2864S-2
Temperature
–55°C to 125°C
Package
14-Lead (150mm) Plastic SO
File Size
343 KB
Page
26 Pages
Manufacturer
Linear Technology
Views
1
Upload Time
2022-05-26 15:15:26
Update Time
2022-05-26
Description
IC TRANSCEIVER FULL 1/1 14SOIC
If you would like to buy it now or in the future, please email or add our skype hello@ic-component.com
LTC2864MPS-2 Features
■ Protected from Overvoltage Line Faults to ±60V
■ 3V to 5.5V Supply Voltage
■ 20Mbps or Low EMI 250kbps Data Rate
■ ±15kV ESD Interface Pins, ±8kV All Other Pins
■ Extended Common Mode Range: ±25V
■ Guaranteed Failsafe Receiver Operation
■ High Input Impedance Supports 256 Nodes
■ 1.65V to 5.5V Logic Supply Pin (VL) for Flexible Digital Interface (LTC2865)
■ MP-Grade Option Available (–55°C to 125°C)
■ Fully Balanced Differential Receiver Thresholds for Low Duty Cycle Distortion
■ Current Limited Drivers and Thermal Shutdown
■ Pin Compatible with LT1785 and LT1791
■ Available in DFN and Leaded Packages
LTC2864MPS-2 Applications
■ Supervisory Control and Data Acquisition (SCADA)
■ Industrial Control and Instrumentation Networks
■ Automotive and Transportation Electronics
■ Building Automation, Security Systems and HVAC
■ Medical Equipment
■ Lighting and Sound System Control
LTC2864MPS-2 Description
LTC2864MPS-2 are low power, 20Mbps or 250kbps RS485/RS422 transceivers operating on 3V to 5.5V supplies that feature ±60V overvoltage fault protection on the data transmission lines during all modes of operation, including power-down. Low EMI slew rate limited data transmission is available in a logic-selectable 250kbps mode in the LTC2865 and in 250kbps versions of the LTC2862-LTC2864. Enhanced ESD protection allows these parts to withstand ±15kV HBM on the transceiver interface pins without latchup or damage.
Extended ±25V input common mode range and full failsafe operation improve data communication reliability in electrically noisy environments and in the presence of large ground loop voltages.
Related LTC2864MPS-2 Datasheet