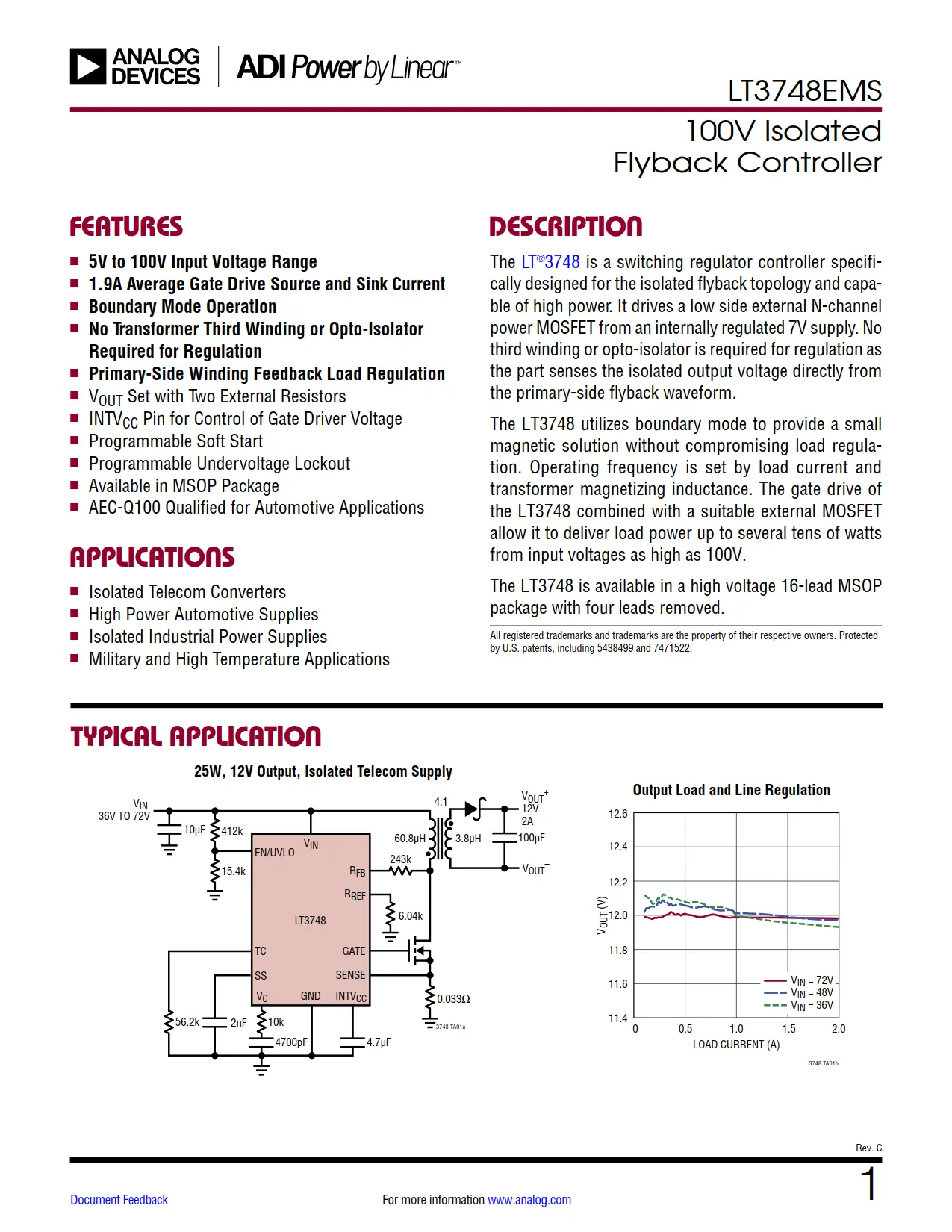 LT3748EMS DataSheet
Part No.
LT3748EMS
Part Marking
3748
Temperature
–40°C to 125°C
Package
16-Lead Plastic MSOP
File Size
1018 KB
Page
34 Pages
Manufacturer
Linear Technology
Views
1
Upload Time
2022-06-06 11:07:37
Update Time
2022-06-06
Description
IC REG CTRLR FLYBACK 16MSOP
If you would like to buy it now or in the future, please email or add our skype hello@ic-component.com
LT3748EMS Features
■ 5V to 100V Input Voltage Range
■ 1.9A Average Gate Drive Source and Sink Current
■ Boundary Mode Operation
■ No Transformer Third Winding or Opto-Isolator Required for Regulation
■ Primary-Side Winding Feedback Load Regulation
■ VOUT Set with Two External Resistors
■ INTVCC Pin for Control of Gate Driver Voltage
■ Programmable Soft Start
■ Programmable Undervoltage Lockout
■ Available in MSOP Package
■ AEC-Q100 Qualified for Automotive Applications
LT3748EMS Applications
■ Isolated Telecom Converters
■ High Power Automotive Supplies
■ Isolated Industrial Power Supplies
■ Military and High Temperature Applications
LT3748EMS Description
The LT3748EMS is a switching regulator controller specifically designed for the isolated flyback topology and capable of high power. It drives a low side external N-channel power MOSFET from an internally regulated 7V supply. No third winding or opto-isolator is required for regulation as the part senses the isolated output voltage directly from the primary-side flyback waveform.
The LT3748EMS utilizes boundary mode to provide a small magnetic solution without compromising load regulation. Operating frequency is set by load current and transformer magnetizing inductance. The gate drive of the LT3748 combined with a suitable external MOSFET allow it to deliver load power up to several tens of watts from input voltages as high as 100V.
The LT3748EMS is available in a high voltage 16-lead MSOP package with four leads removed.
Related LT3748EMS Datasheet