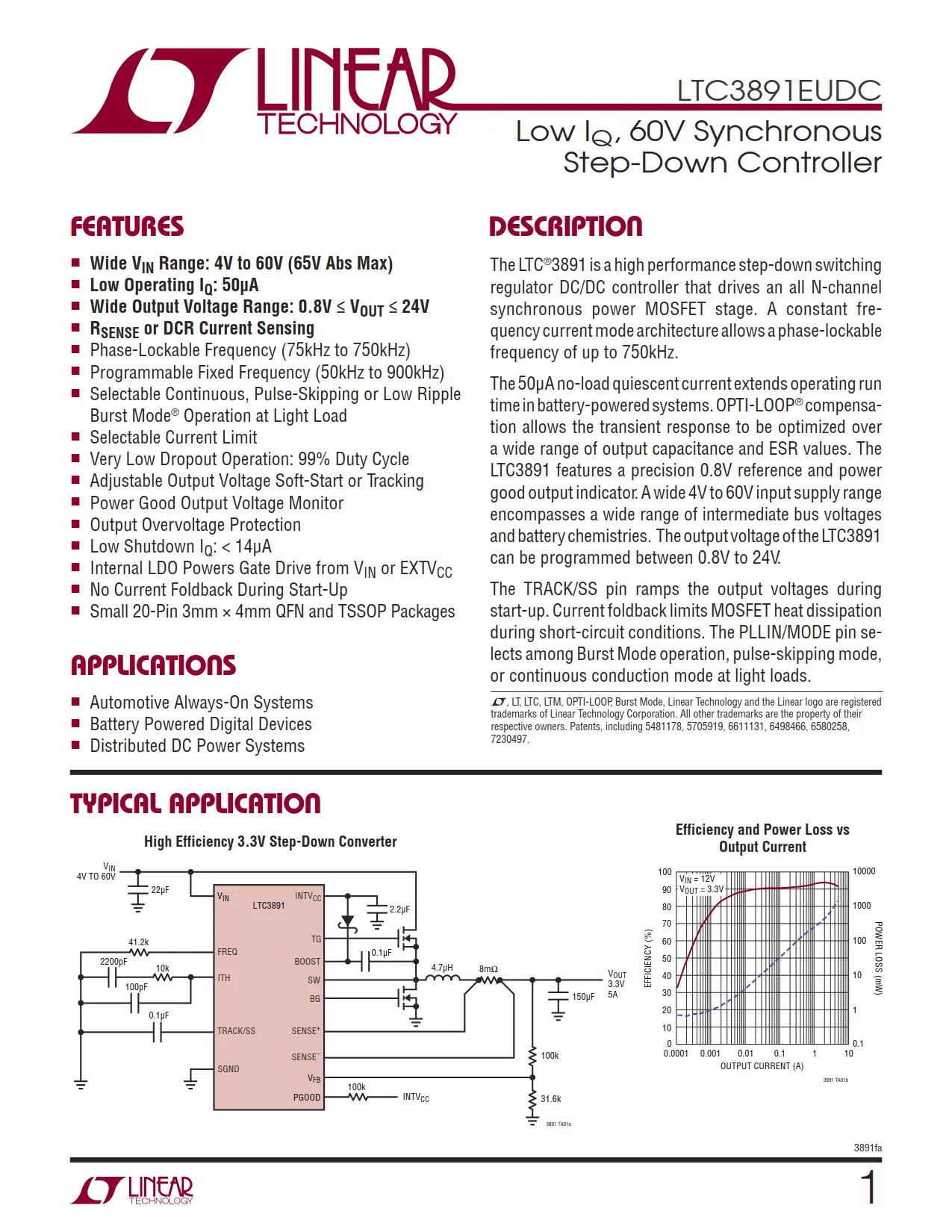 LTC3891EUDC DataSheet
Part No.
LTC3891EUDC
Part Marking
LFXV
Temperature
–40°C to 125°C
Package
20-Lead (3mm × 4mm) Plastic QFN
File Size
684 KB
Page
32 Pages
Manufacturer
Linear Technology
Views
1
Upload Time
2022-06-06 11:07:40
Update Time
2022-06-06
Description
IC REG CTRLR BUCK 20QFN
If you would like to buy it now or in the future, please email or add our skype hello@ic-component.com
LTC3891EUDC Features
■ Wide VIN Range: 4V to 60V (65V Abs Max)
■ Low Operating IQ: 50μA
■ Wide Output Voltage Range: 0.8V ≤ VOUT ≤ 24V
■ RSENSE or DCR Current Sensing
■ Phase-Lockable Frequency (75kHz to 750kHz)
■ Programmable Fixed Frequency (50kHz to 900kHz)
■ Selectable Continuous, Pulse-Skipping or Low Ripple Burst Mode® Operation at Light Load
■ Selectable Current Limit
■ Very Low Dropout Operation: 99% Duty Cycle
■ Adjustable Output Voltage Soft-Start or Tracking
■ Power Good Output Voltage Monitor
■ Output Overvoltage Protection
■ Low Shutdown IQ: < 14μA
■ Internal LDO Powers Gate Drive from VIN or EXTVCC
■ No Current Foldback During Start-Up
■ Small 20-Pin 3mm × 4mm QFN and TSSOP Packages
LTC3891EUDC Applications
■ Automotive Always-On Systems
■ Battery Powered Digital Devices
■ Distributed DC Power Systems
LTC3891EUDC Description
The LTC3891EUDC is a high performance step-down switching regulator DC/DC controller that drives an all N-channel synchronous power MOSFET stage. A constant fre-quency current mode architecture allows a phase-lockable frequency of up to 750kHz.
The 50μA no-load quiescent current extends operating run time in battery-powered systems. OPTI-LOOP® compensa-tion allows the transient response to be optimized over a wide range of output capacitance and ESR values. The LTC3891 features a precision 0.8V reference and power good output indicator. A wide 4V to 60V input supply range encompasses a wide range of intermediate bus voltages and battery chemistries. The output voltage of the LTC3891 can be programmed between 0.8V to 24V.
The TRACK/SS pin ramps the output voltages during start-up. Current foldback limits MOSFET heat dissipation during short-circuit conditions. The PLLIN/MODE pin se-lects among Burst Mode operation, pulse-skipping mode, or continuous conduction mode at light loads.
Related LTC3891EUDC Datasheet