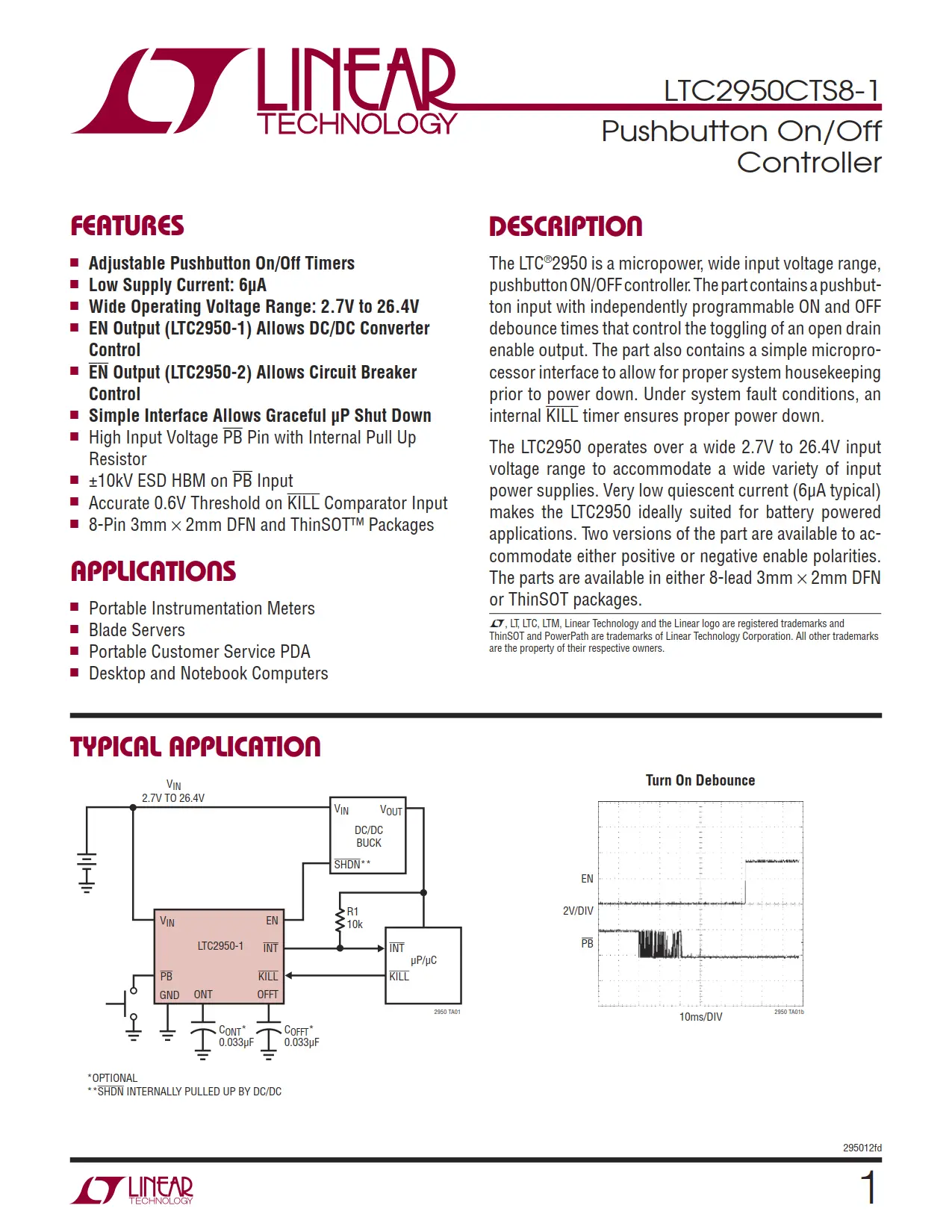 LTC2950CTS8-1 DataSheet
Part No.
LTC2950CTS8-1
Part Marking
LTBKN
Temperature
0°C to 70°C
Package
8-Lead Plastic TSOT-23
File Size
231 KB
Page
18 Pages
Manufacturer
Linear Technology
Views
1
Upload Time
2022-06-22 11:44:27
Update Time
2022-06-22
Description
IC PB ON/OFF CONTROLLER TSOT23-8
If you would like to buy it now or in the future, please email or add our skype hello@ic-component.com
LTC2950CTS8-1 Features
■ Adjustable Pushbutton On/Off Timers
■ Low Supply Current: 6μA
■ Wide Operating Voltage Range: 2.7V to 26.4V
■ EN Output (LTC2950-1) Allows DC/DC Converter Control
■ Simple Interface Allows Graceful μP Shut Down
■ High Input Voltage PB Pin with Internal Pull Up Resistor
■ ±10kV ESD HBM on PB Input
■ Accurate 0.6V Threshold on KILL Comparator Input
■ 8-Pin 3mm × 2mm DFN and ThinSOT™ Packages
LTC2950CTS8-1 Applications
■ Portable Instrumentation Meters
■ Blade Servers
■ Portable Customer Service PDA
■ Desktop and Notebook Computers
LTC2950CTS8-1 Description
The LTC2950CTS8-1 is a micropower, wide input voltage range, pushbutton ON/OFF controller. The part contains a pushbutton input with independently programmable ON and OFF debounce times that control the toggling of an open drain enable output. The part also contains a simple microprocessor interface to allow for proper system housekeeping prior to power down. Under system fault conditions, an internal KILL timer ensures proper power down.
The LTC2950CTS8-1 operates over a wide 2.7V to 26.4V input voltage range to accommodate a wide variety of input power supplies. Very low quiescent current (6μA typical) makes the LTC2950 ideally suited for battery powered applications. Two versions of the part are available to accommodate either positive or negative enable polarities. The parts are available in either 8-lead 3mm × 2mm DFN or ThinSOT packages.
Related LTC2950CTS8-1 Datasheet