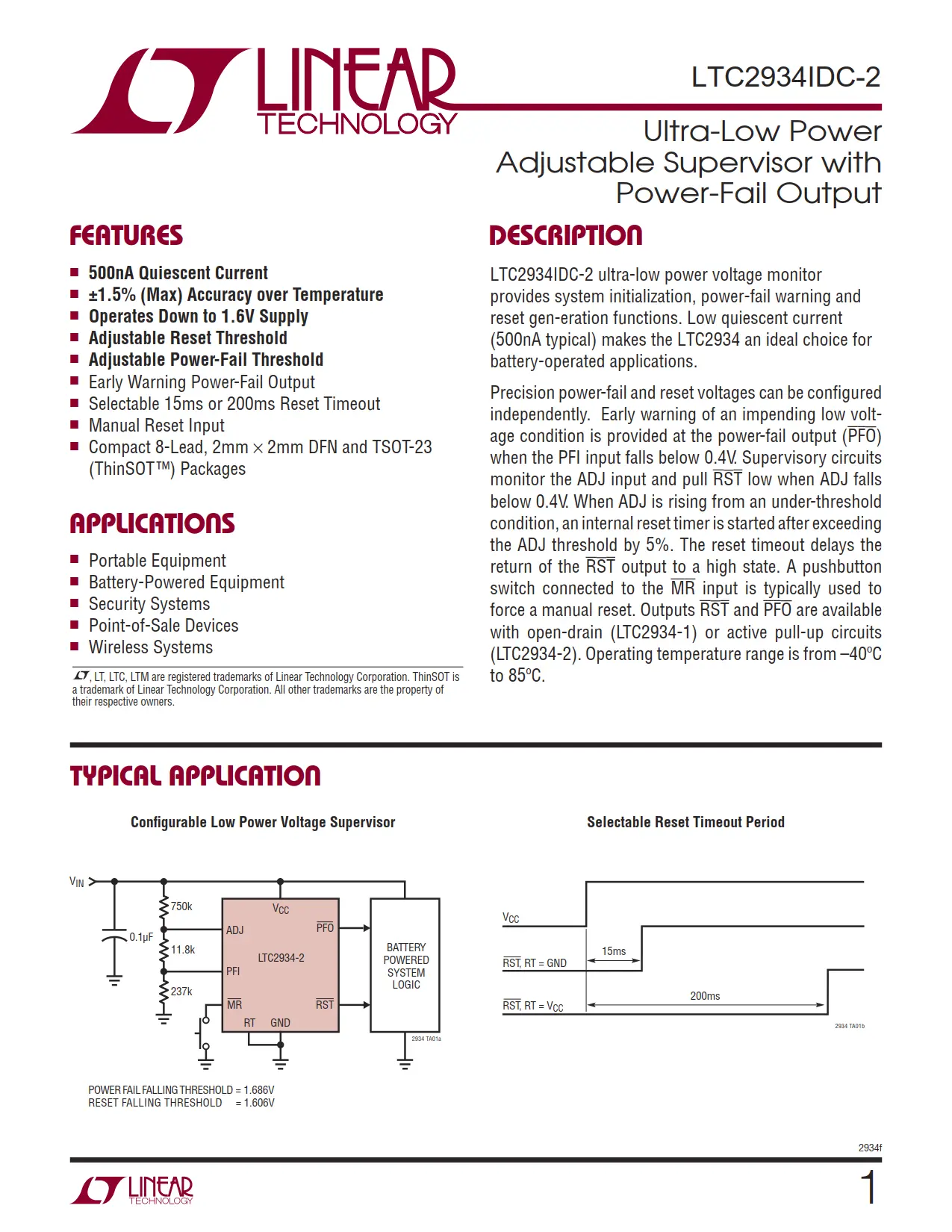 LTC2934IDC-2 DataSheet
Part No.
LTC2934IDC-2
Part Marking
LDKV
Temperature
–40°C to 85°C
Package
8-Lead (2mm × 2mm) Plastic DFN
File Size
199 KB
Page
12 Pages
Manufacturer
Linear Technology
Views
1
Upload Time
2022-05-07 14:27:37
Update Time
2022-05-06
Description
IC SUPERVISOR 1 CHANNEL 8DFN
If you would like to buy it now or in the future, please email or add our skype hello@ic-component.com
LTC2934IDC-2 Features
■ 500nA Quiescent Current
■ ±1.5% (Max) Accuracy over Temperature
■ Operates Down to 1.6V Supply
■ Adjustable Reset Threshold
■ Adjustable Power-Fail Threshold
■ Early Warning Power-Fail Output
■ Selectable 15ms or 200ms Reset Timeout
■ Manual Reset Input
■ Compact 8-Lead, 2mm × 2mm DFN and TSOT-23 (ThinSOT™) Packages
LTC2934IDC-2 Applications
■ Portable Equipment
■ Battery-Powered Equipment
■ Security Systems
■ Point-of-Sale Devices
■ Wireless Systems
LTC2934IDC-2 Description
LTC2934IDC-2 ultra-low power voltage monitor provides system initialization, power-fail warning and reset gen-eration functions. Low quiescent current (500nA typical) makes the LTC2934 an ideal choice for battery-operated applications.
Precision power-fail and reset voltages can be configured independently. Early warning of an impending low volt-age condition is provided at the power-fail output (PFO) when the PFI input falls below 0.4V. Supervisory circuits monitor the ADJ input and pull RST low when ADJ falls below 0.4V. When ADJ is rising from an under-threshold condition, an internal reset timer is started after exceeding the ADJ threshold by 5%. The reset timeout delays the return of the RST output to a high state. A pushbutton switch connected to the MR input is typically used to force a manual reset. Outputs RST and PFO are available with open-drain (LTC2934-1) or active pull-up circuits (LTC2934-2). Operating temperature range is from –40ºC to 85ºC.
Related LTC2934IDC-2 Datasheet