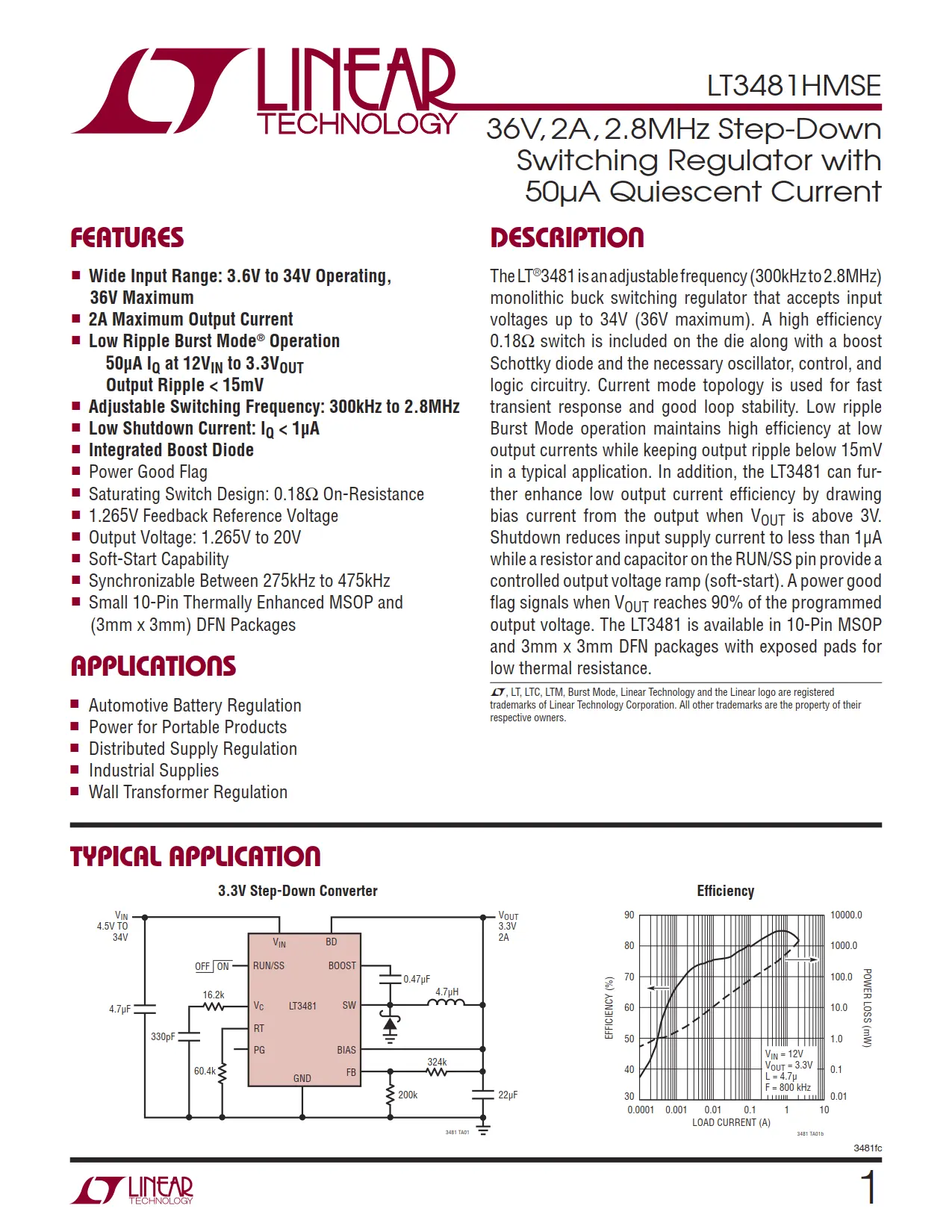 LT3481HMSE DataSheet
Part No.
LT3481HMSE
Part Marking
LTBVT
Temperature
–40°C to 150°C
Package
10-Lead Plastic MSOP
File Size
298 KB
Page
24 Pages
Manufacturer
Linear Technology
Views
4
Upload Time
2022-05-26 15:15:33
Update Time
2022-05-26
Description
IC REG BUCK ADJUSTABLE 2A 10MSOP
If you would like to buy it now or in the future, please email or add our skype hello@ic-component.com
LT3481HMSE Features
■ Wide Input Range: 3.6V to 34V Operating, 36V Maximum
■ 2A Maximum Output Current
■ Low Ripple Burst Mode® Operation
50μA IQ at 12VIN to 3.3VOUT
Output Ripple < 15mV
■ Adjustable Switching Frequency: 300kHz to 2.8MHz
■ Low Shutdown Current: IQ < 1μA
■ Integrated Boost Diode
■ Power Good Flag
■ Saturating Switch Design: 0.18Ω On-Resistance
■ 1.265V Feedback Reference Voltage
■ Output Voltage: 1.265V to 20V
■ Soft-Start Capability
■ Synchronizable Between 275kHz to 475kHz
■ Small 10-Pin Thermally Enhanced MSOP and (3mm x 3mm) DFN Packages
LT3481HMSE Applications
■ Automotive Battery Regulation
■ Power for Portable Products
■ Distributed Supply Regulation
■ Industrial Supplies
■ Wall Transformer Regulation
LT3481HMSE Description
The LT3481HMSE is an adjustable frequency (300kHz to 2.8MHz) monolithic buck switching regulator that accepts input voltages up to 34V (36V maximum). A high efficiency 0.18Ω switch is included on the die along with a boost Schottky diode and the necessary oscillator, control, and logic circuitry. Current mode topology is used for fast transient response and good loop stability. Low ripple Burst Mode operation maintains high efficiency at low output currents while keeping output ripple below 15mV in a typical application. In addition, the LT3481 can further enhance low output current efficiency by drawing bias current from the output when VOUT is above 3V. Shutdown reduces input supply current to less than 1μA while a resistor and capacitor on the RUN/SS pin provide a controlled output voltage ramp (soft-start). A power good flag signals when VOUT reaches 90% of the programmed output voltage. The LT3481 is available in 10-Pin MSOP and 3mm x 3mm DFN packages with exposed pads for low thermal resistance.
Related LT3481HMSE Datasheet