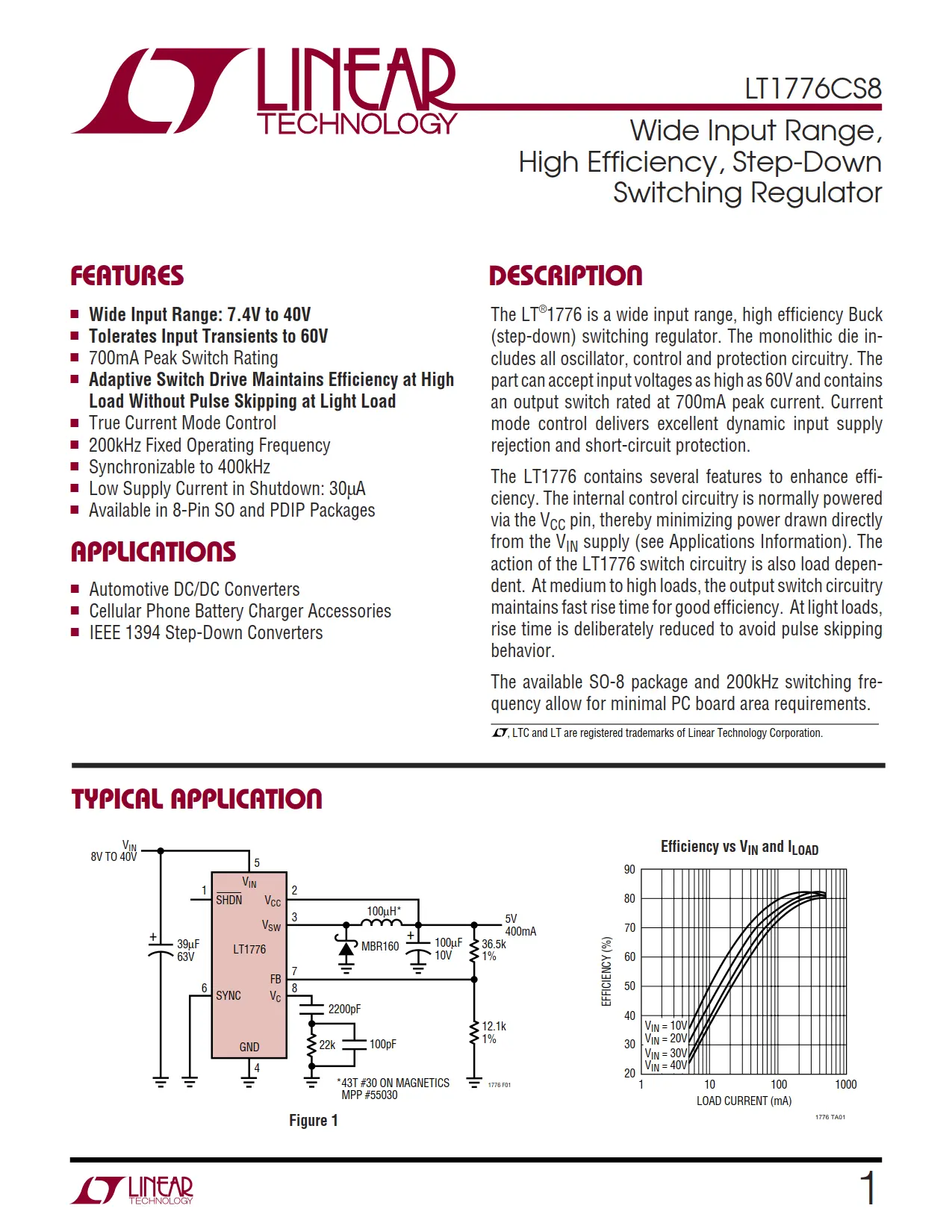 LT1776CS8 DataSheet
Part No.
LT1776CS8
Part Marking
1776
Temperature
0°C to 125°C
Package
8-SO
File Size
218 KB
Page
20 Pages
Manufacturer
Linear Technology
Views
1
Upload Time
2022-06-01 16:25:49
Update Time
2022-06-01
Description
IC REG BUCK ADJ 550MA 8SOIC
If you would like to buy it now or in the future, please email or add our skype hello@ic-component.com
LT1776CS8 Features
■ Wide Input Range: 7.4V to 40V
■ Tolerates Input Transients to 60V
■ 700mA Peak Switch Rating
■ Adaptive Switch Drive Maintains Efficiency at High Load Without Pulse Skipping at Light Load
■ True Current Mode Control
■ 200kHz Fixed Operating Frequency
■ Synchronizable to 400kHz
■ Low Supply Current in Shutdown: 30µA
■ Available in 8-Pin SO and PDIP Packages
LT1776CS8 Applications
■ Automotive DC/DC Converters
■ Cellular Phone Battery Charger Accessories
■ IEEE 1394 Step-Down Converters
LT1776CS8 Description
The LT1776CS8 is a wide input range, high efficiency Buck (step-down) switching regulator. The monolithic die includes all oscillator, control and protection circuitry. The part can accept input voltages as high as 60V and contains an output switch rated at 700mA peak current. Current mode control delivers excellent dynamic input supply rejection and short-circuit protection.
The LT1776CS8 contains several features to enhance efficiency. The internal control circuitry is normally powered via the VCC pin, thereby minimizing power drawn directly from the VIN supply (see Applications Information). The action of the LT1776 switch circuitry is also load dependent. At medium to high loads, the output switch circuitry maintains fast rise time for good efficiency. At light loads, rise time is deliberately reduced to avoid pulse skipping behavior.
The available SO-8 package and 200kHz switching frequency allow for minimal PC board area requirements.
Related LT1776CS8 Datasheet